This page contains set of information useful for navigation in Central Adriatic waters and in particular - on my boats. Read it thoroughly and practice those skills before and during navigation.

MUST WATCH - video tutorial "How to Use Beneteau First 21.7"





Documents available for download


Sailing Tips PDF document download - a list of recommended mooring places/options with approximate prices for moorings/buoys and some basic tips
Empty crew list form in online Excel table download


GENERAL INSTRUCTIONS if you find yourself in thunderstorm


Thunderstorms are (in most cases) formed locally (!) and move from West towards East and rotating counterclockwise. It usually lasts for about 30 to 60 minutes with wind speeds of approximately 60 knots. It is extremely uncomfortable and unpleasant experience but it is not dangerous if you keep your boat at the safe distance from the shore.
If there is possibility for thunderstorm, prepare yourself and the boat timely and following check-list below since you will not have enough time to do any of required procedures when storm begins because it starts or arrives unexpectedly fast!

! ! ! FOLLOW THIS CHECK LIST ! ! !


sail using engine as fast as possible at the open sea
make sure that the shore close to your position is as far as possible to avoid being hit by storm on the shore
fill up fuel tank to the top
get dressed warm (put on waterproof jacket and long sleeves)
put life-jacket on (and all your crew too!)
tie yourself with the life-line and harness to the cockpit
put your mobile phone in waterproof bag and put it into jacket (your crew should do that too)
get your crew into the cabin to keep them safe and warm if they need to replace you at the helm
remove sun shade, fenders and all other unfastened equipment from the deck
secure sails properly to avoid opening of sails due to strong wind
close the cabin hatch and door
remove all ropes (or tie it securely if not removable) from the deck so those can't get into outboard propeller (washed by waves) and stop the engine
especially take care of the main sheet (long rope that controls main sail)
text me that you will enter the storm if you have time to text me (or let one of your crew do that)
if the storm is close to your position DON'T try to sail into unknown bay to use the anchor or to moor because you are many times slower than the storm and because of that your chance to be hit to the shore is greater than the chance to be safely moored in time
being at anchor IS NOT an option to wait for the storm
sail using engine directly into the storm because it is the fastest way to go through the storm and that way you will keep your current position at the best possible way
keep the course using boat's compass and navigation application (if you are able to protect your smartphone from water; otherwise one of your crew members should obtain your GPS position all the time from inside the cabin) as visibility in thunderstorm is usually reduced to 100 meters, even in the middle of the day

Ignore instructions above if you are moored safely on mooring, marina or buoy. If your anchor drags, even in the middle of the night, apply previous instructions and run to the open sea. It is unpleasant but it is much safer than repeating anchoring procedure in the dark with big waves and strong wind.



WEATHER FORECAST


Link to a Croatian Hydromet Institute weather forecast for small vessels, regularly updated twice a day (at 6am and 12am).
Keep in mind that we are in Central Adriatic area.
How to obtain weather forecast - PDF document download



THREE MOST SIMPLEST AND USEFUL KNOTS


Use "Japanese" knot (watch YT video above) to connect boat's thin mooring rope to thick morning line that is not possible to moor on your boat's cleat.
Keep connection point out of the sea and it will not untie!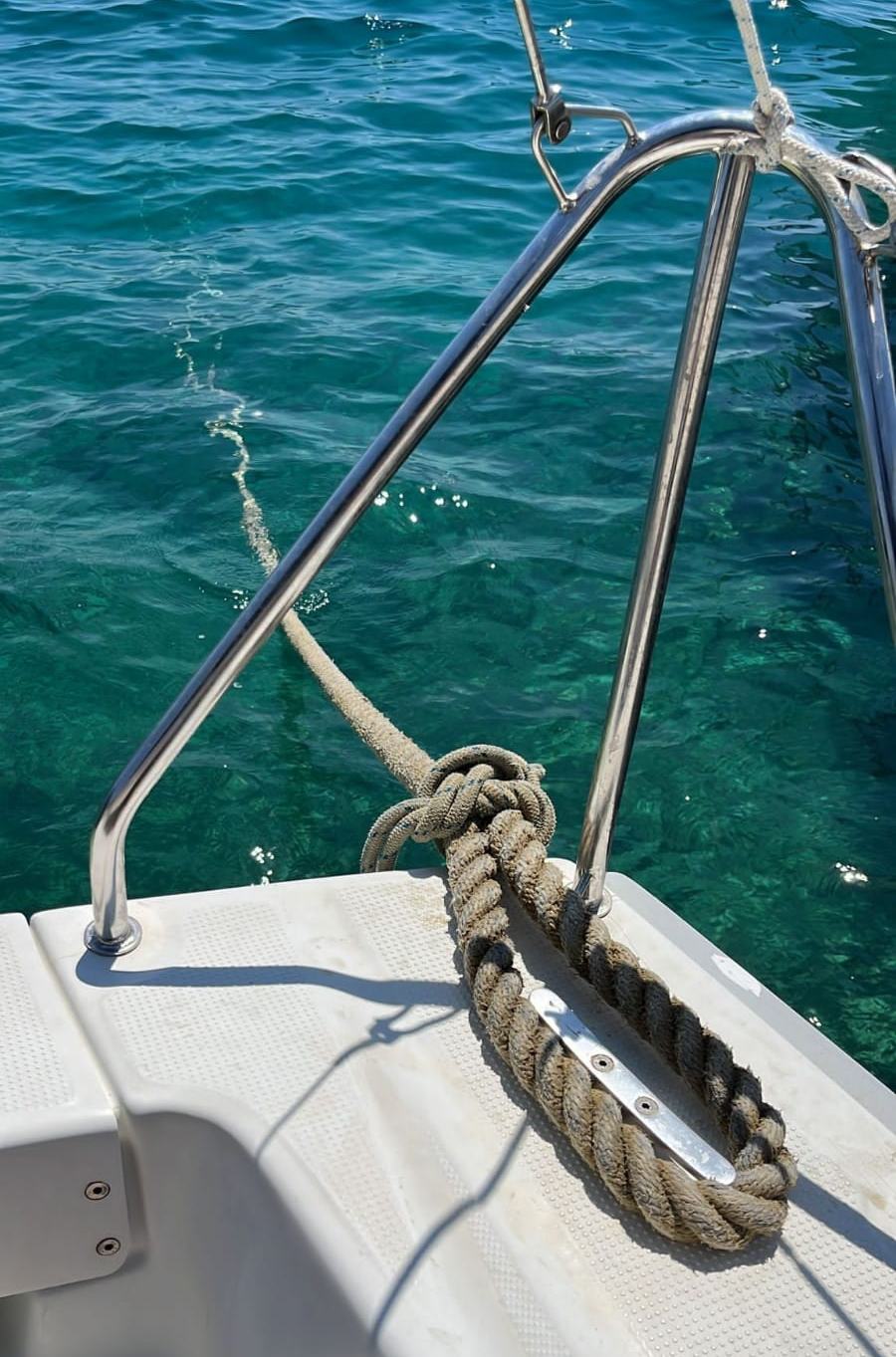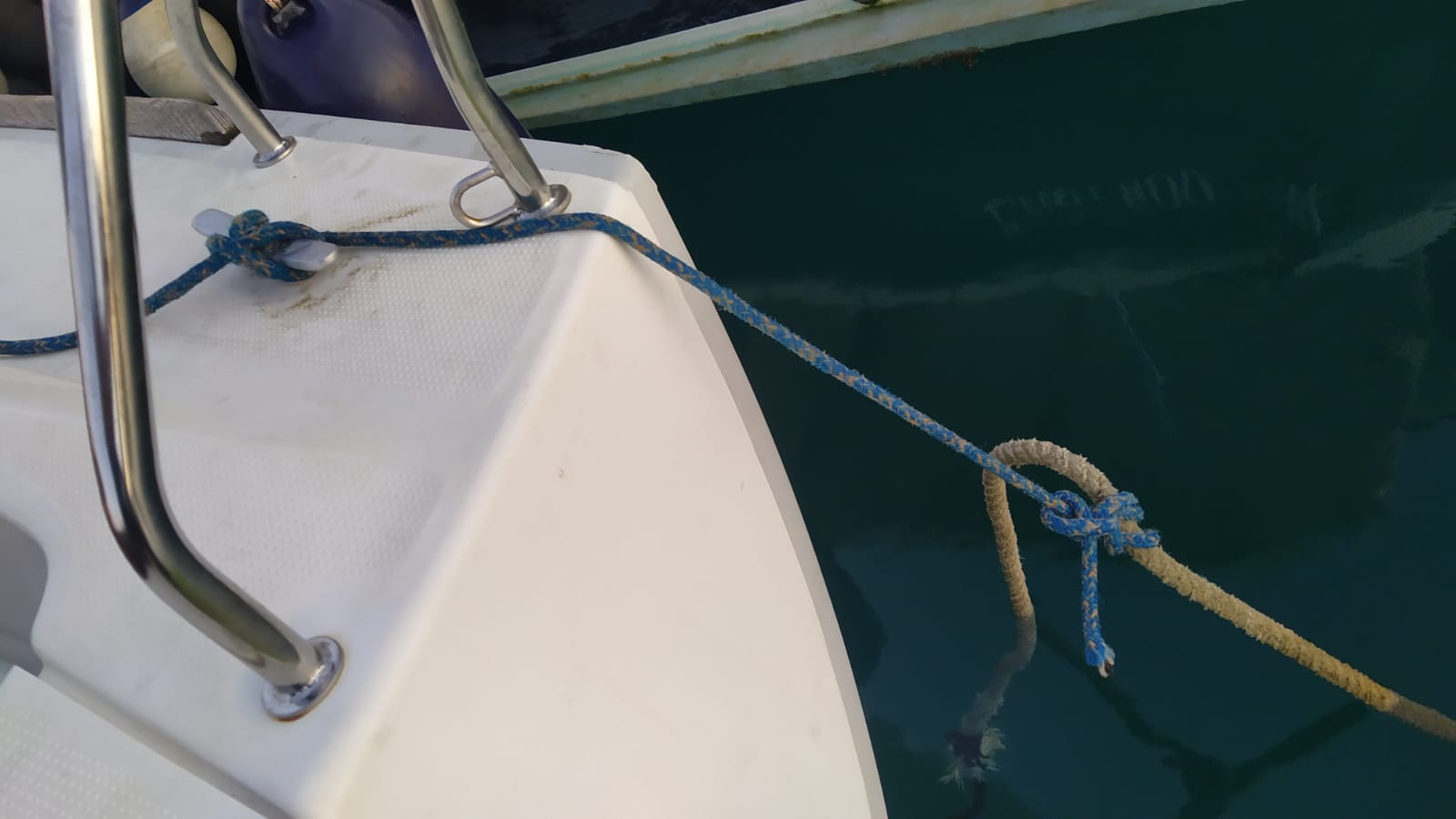 ATRACTIONS NEARBY CITY OF SPLIT - less than 3 hours of motoring from the base marina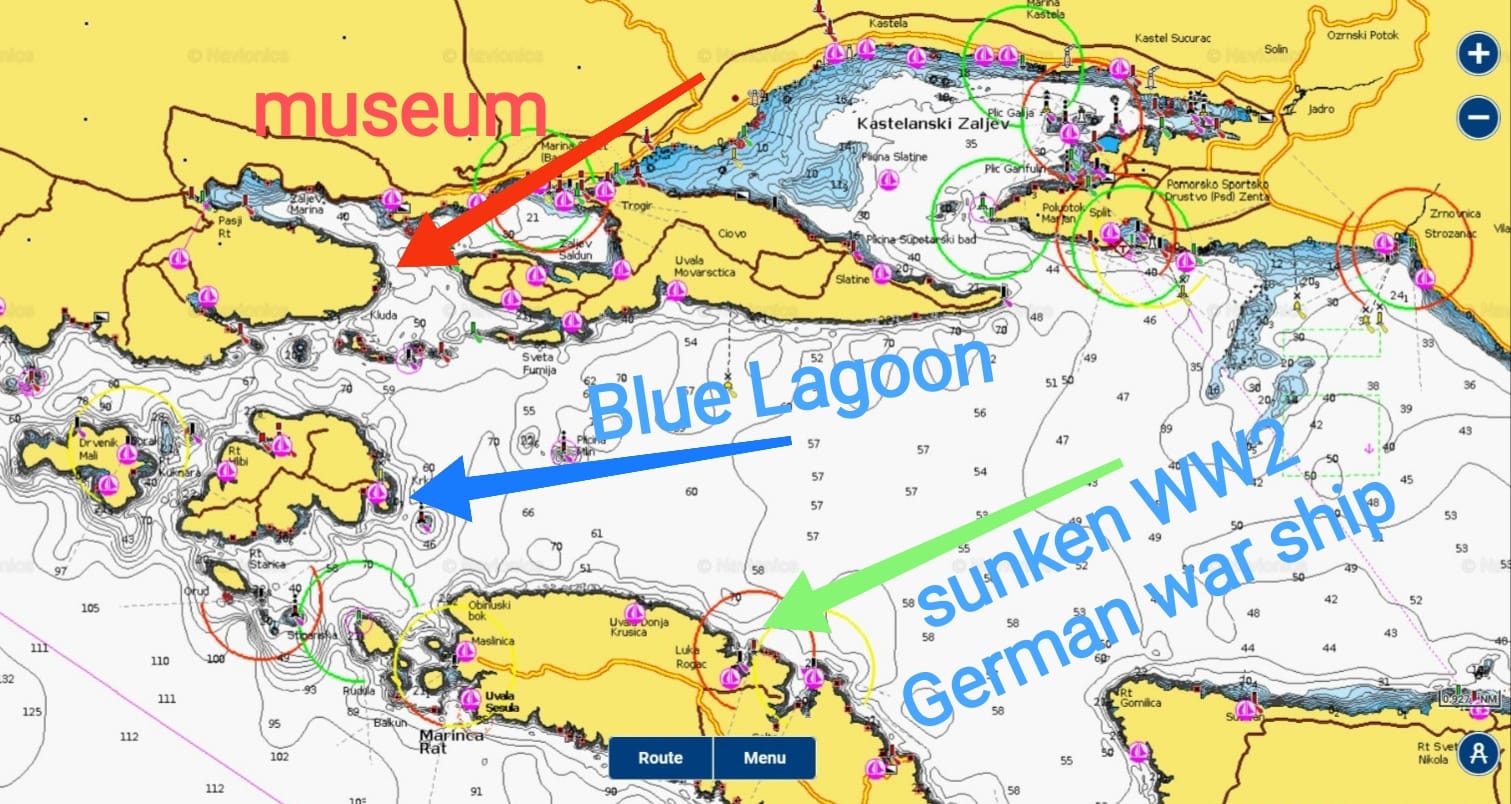 DRVENIK VELI ISLAND - "Blue Lagoon" bay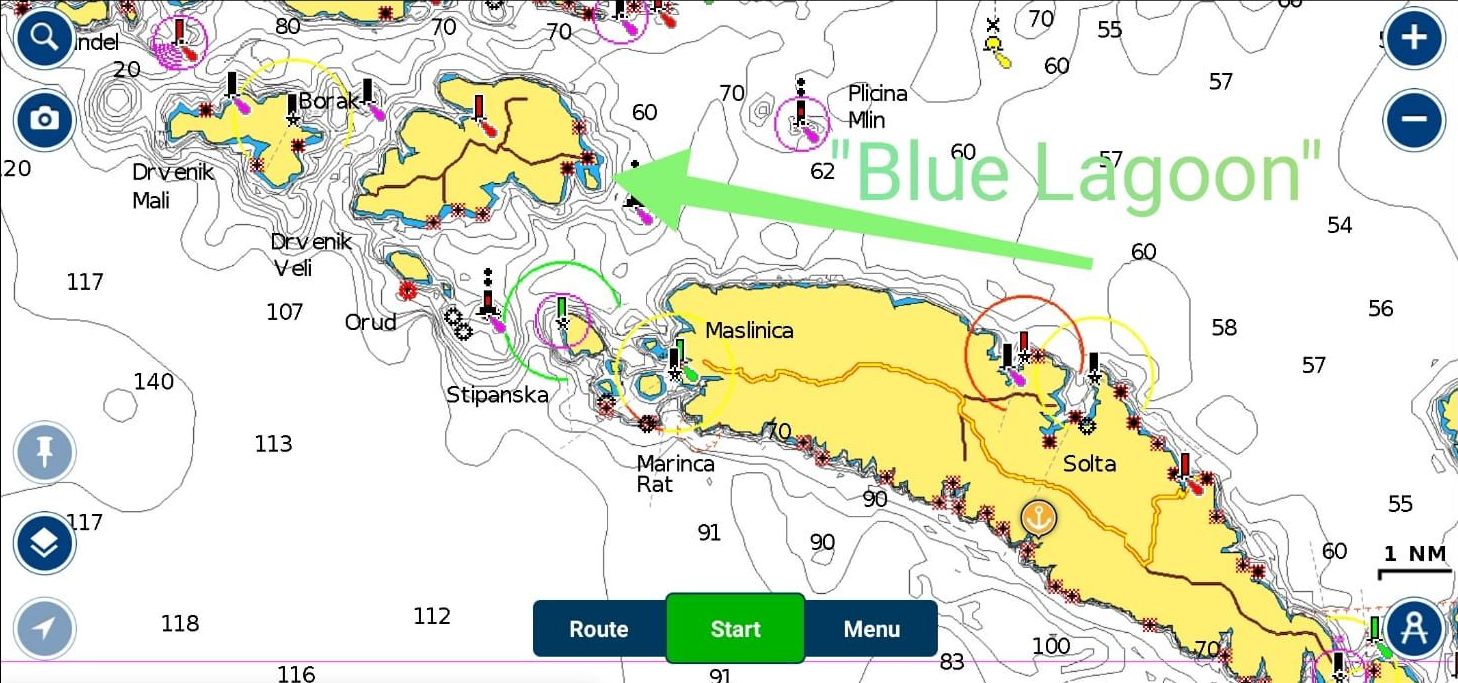 "Blue Lagoon" instructions:
- red arrow - shallow water - you CAN NOT pass here
- orange arrow - pass through the middle of the passage because here is max depth 2.5 metres
- green arrow - normal passage


This area is perfect for anchoring when there is no NE wind (bora). Release rope/chain in length of 3-5 depths

"Blue Lagoon" annex:
- ideal for kayaking
- the best time to arrive is in the afternoon when all day tourists (rent a speed boats, day trip cruisers etc.) leave the bay 
- the best time to leave this bay is around 10am before all those day trip boats arrive 😆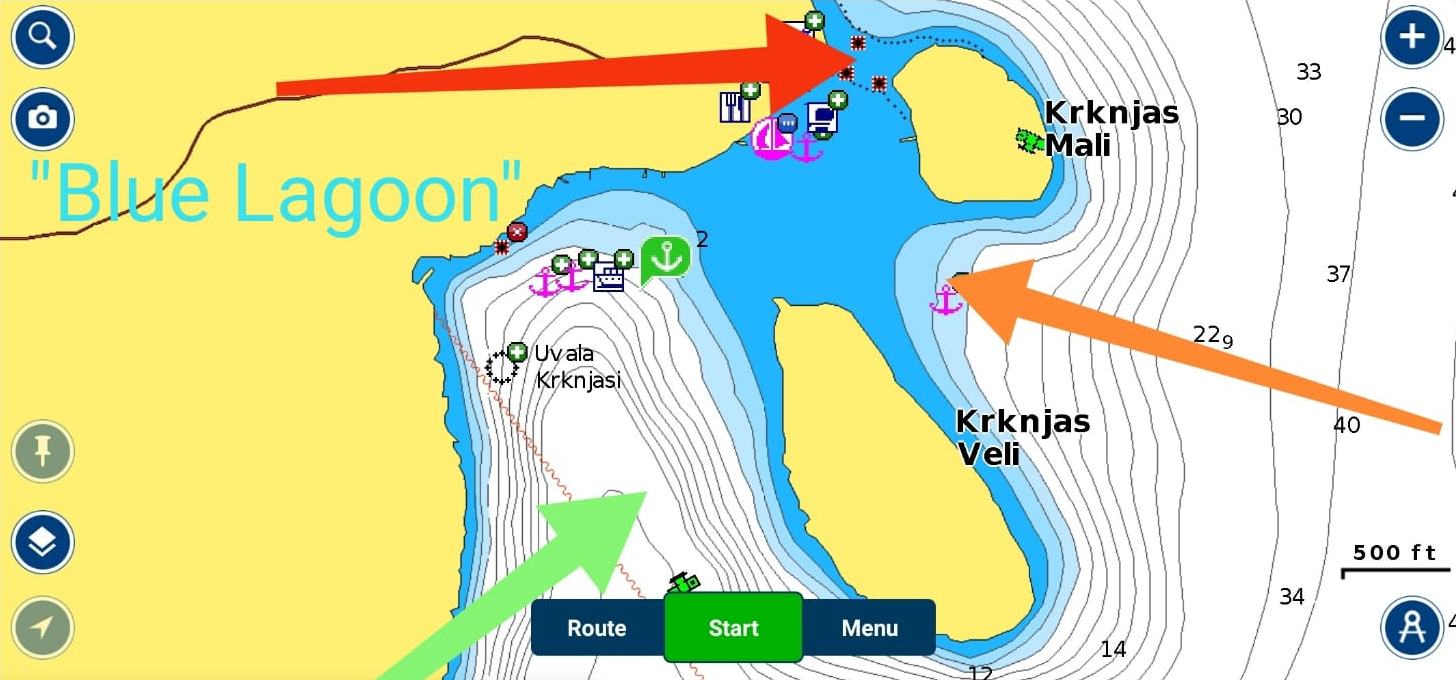 UNDERWATER MUSEUM in Jelinak bay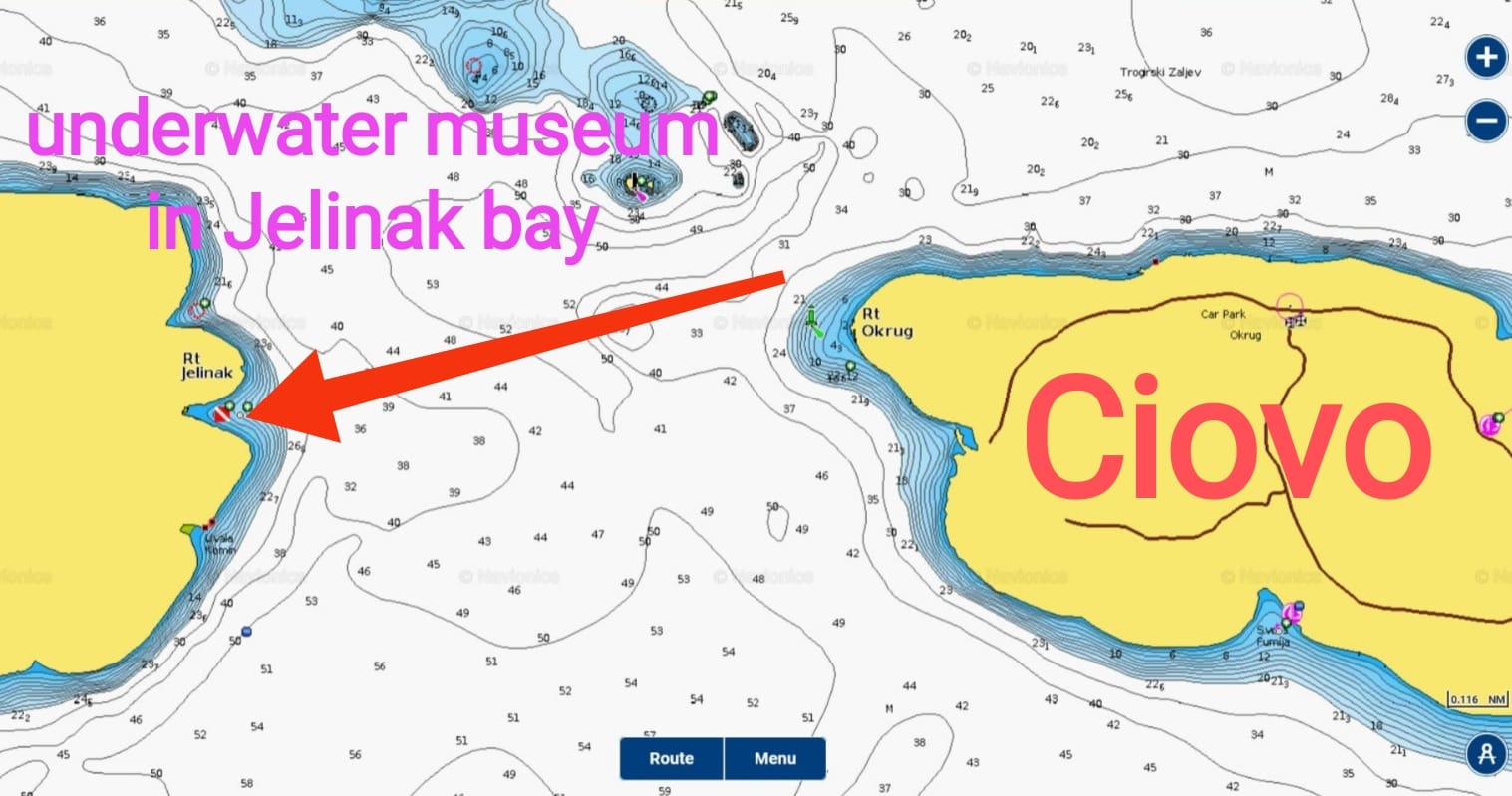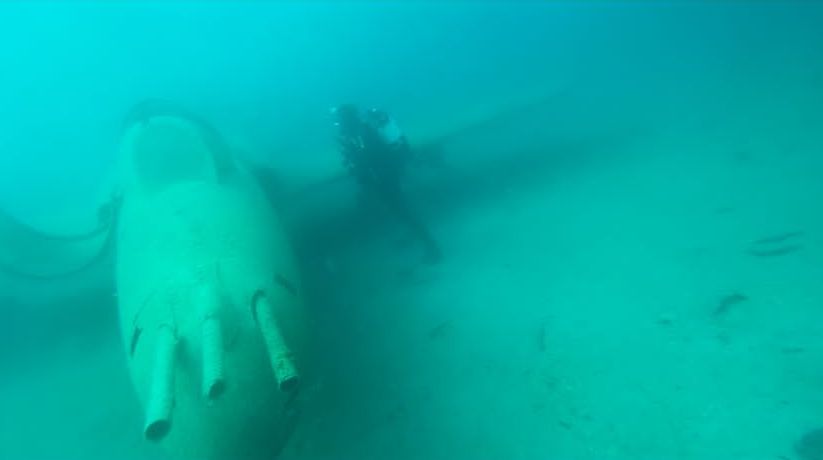 Position of sunken ship in Rogac bay on Solta island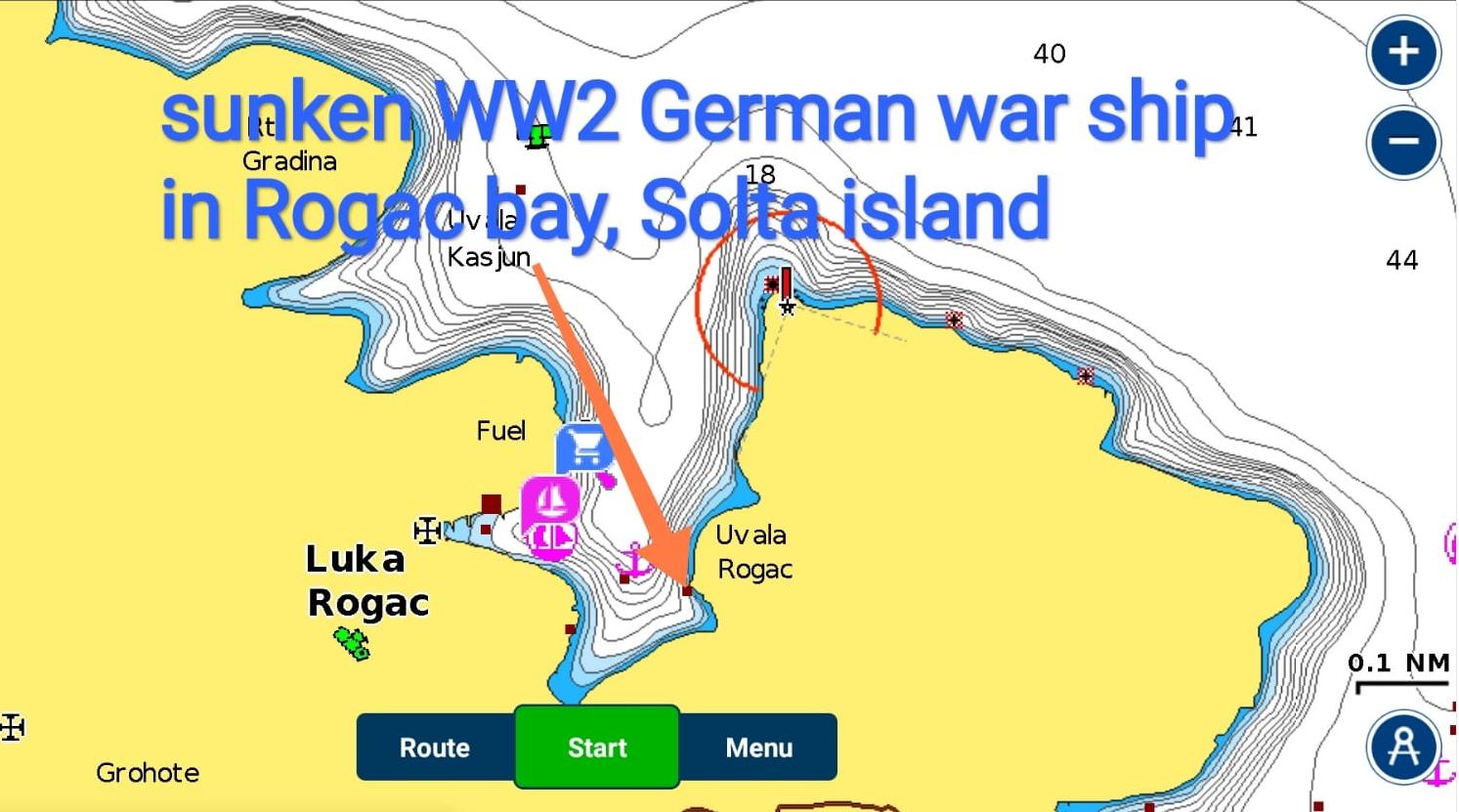 BRAČ ISLAND


Milna town, west side of Brac island, mooring options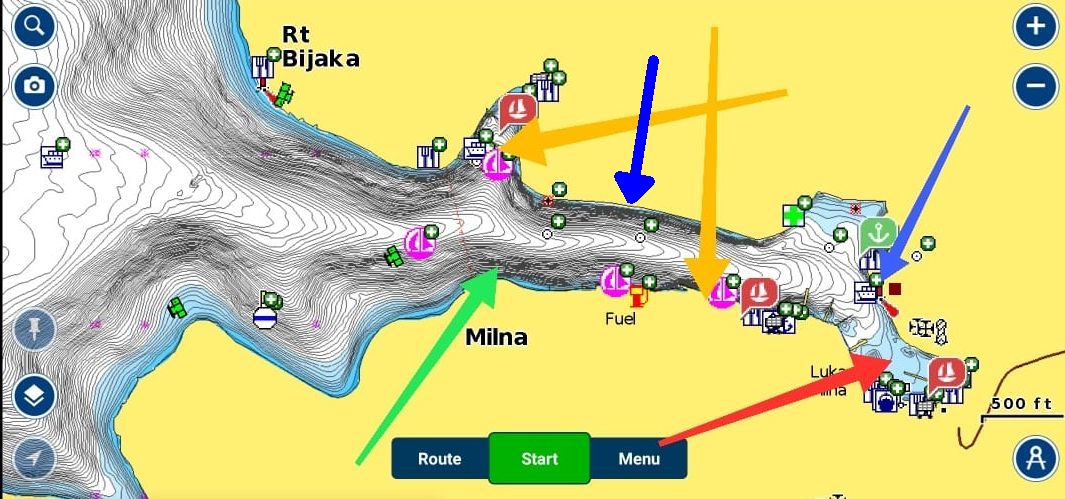 Green - floating dock (free)
Blue - municipal mooring (15€)
Orange - private marinas (40€)
Red - ACI marina (70€)
If you will moor at the floating dock, use spring ropes and put one fender on cleat that is on the dock (those cleats are at the edge of the dock and can damage hull if you don't fix fender on it)

Stipanska bay - on the west coast of Brac island. Great anchorage, very well protected, sandy bottom from 4 to 12 metres of depth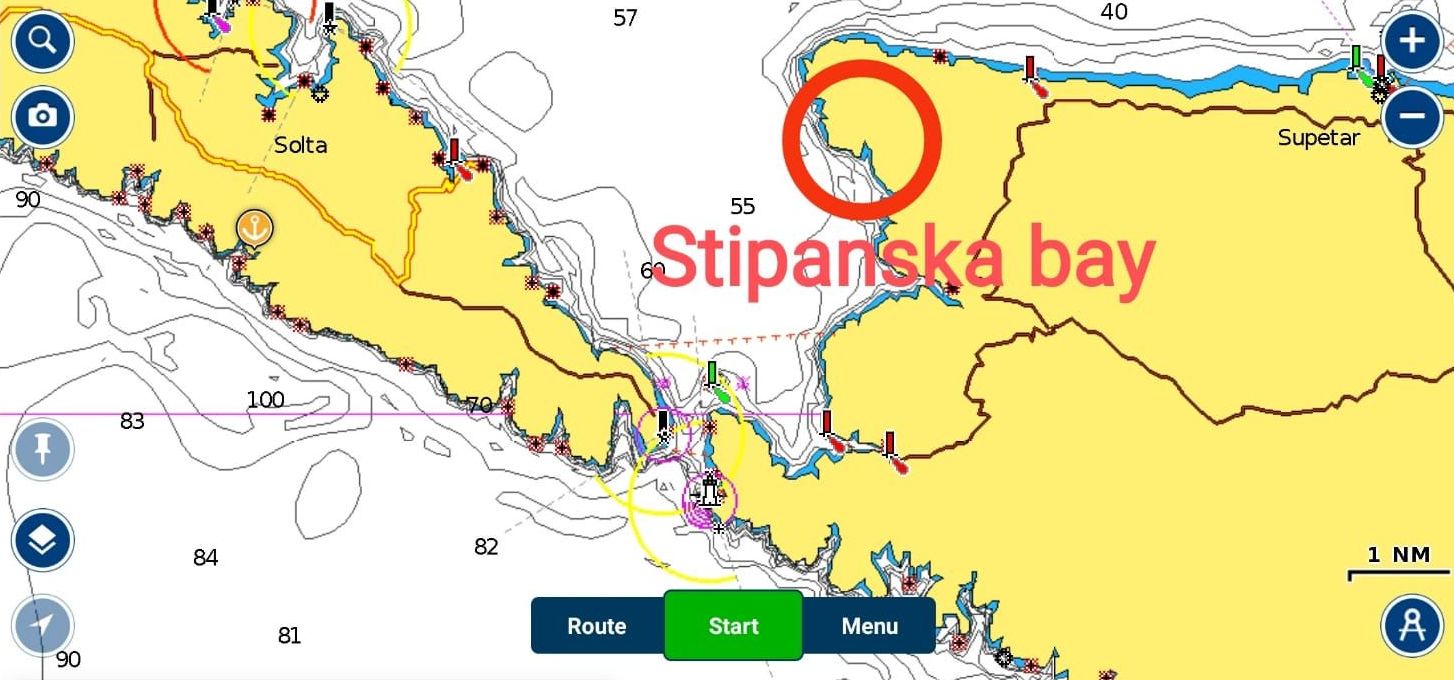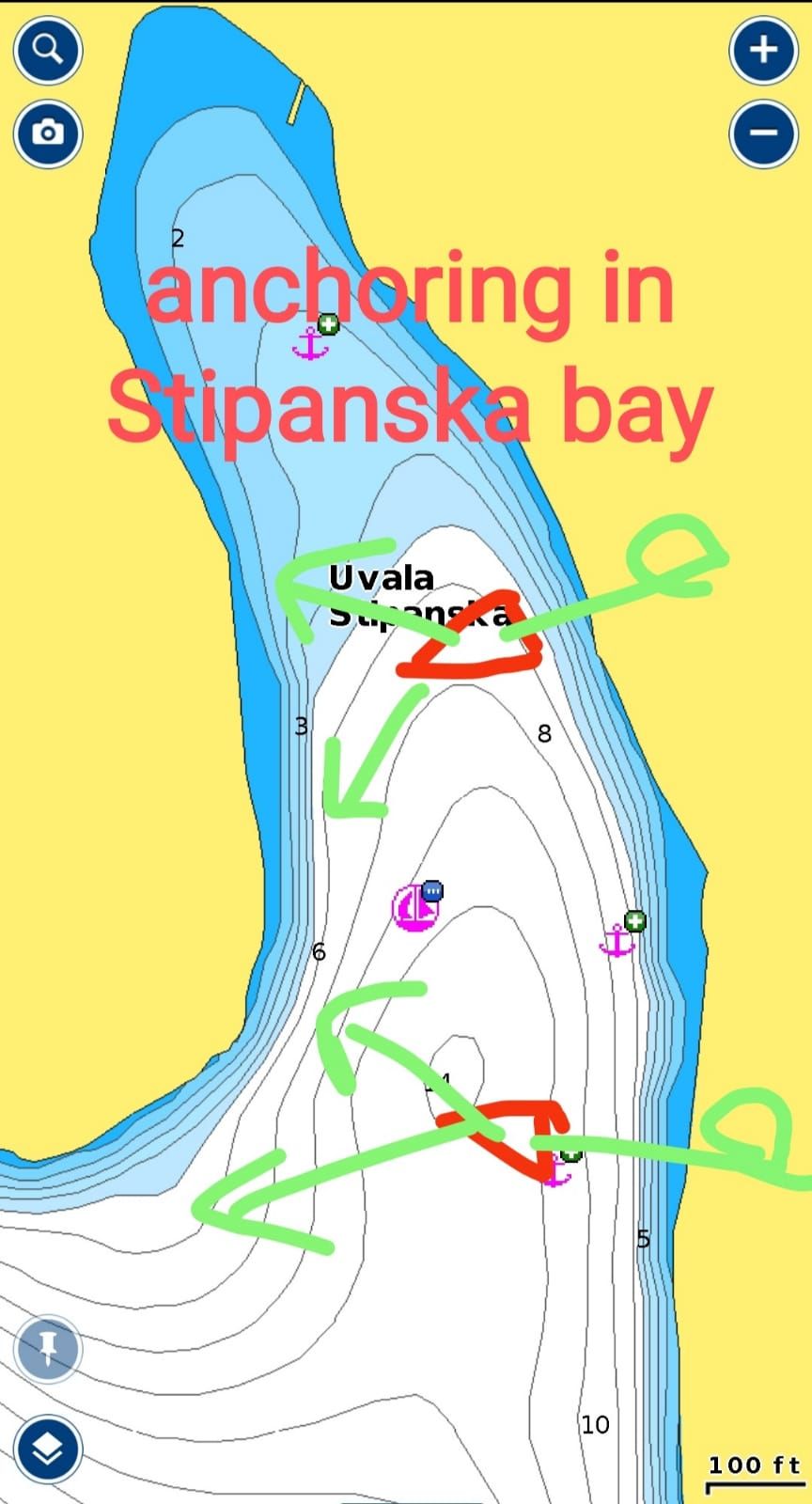 Lucice bay
- the most beautiful bay, well protected
- nice kayaking spot
- there are several fields of buoys in western part of bay
- eastern part is too deep for anchoring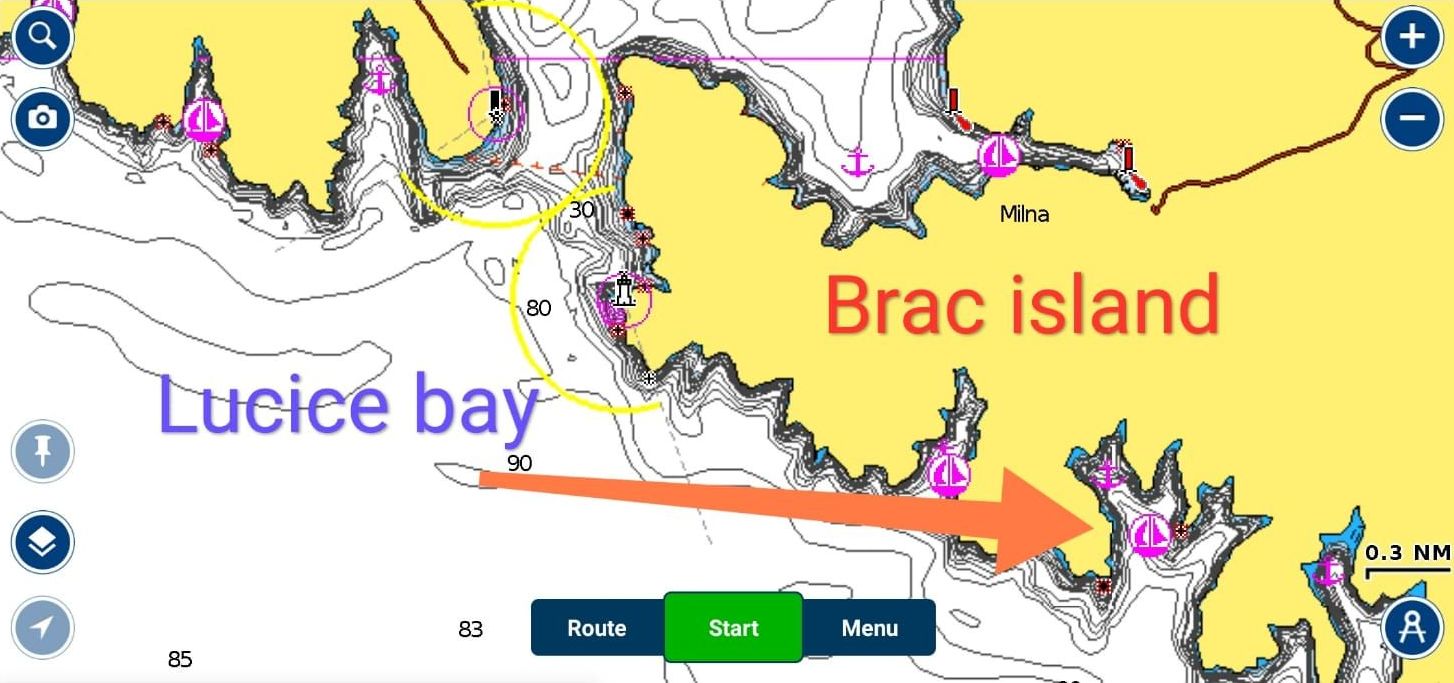 HVAR ISLAND


Pakleni islands (island of Sv. Klement):
- green arrow - good anchorage (lay anchor/s 40 metres from the shore and tie anchor line to bow cleet; then tie stern 10 meters from the shore for the rock or tree on the shore; let whole system be slack at least 1-2 metres)
- red area - field of buoys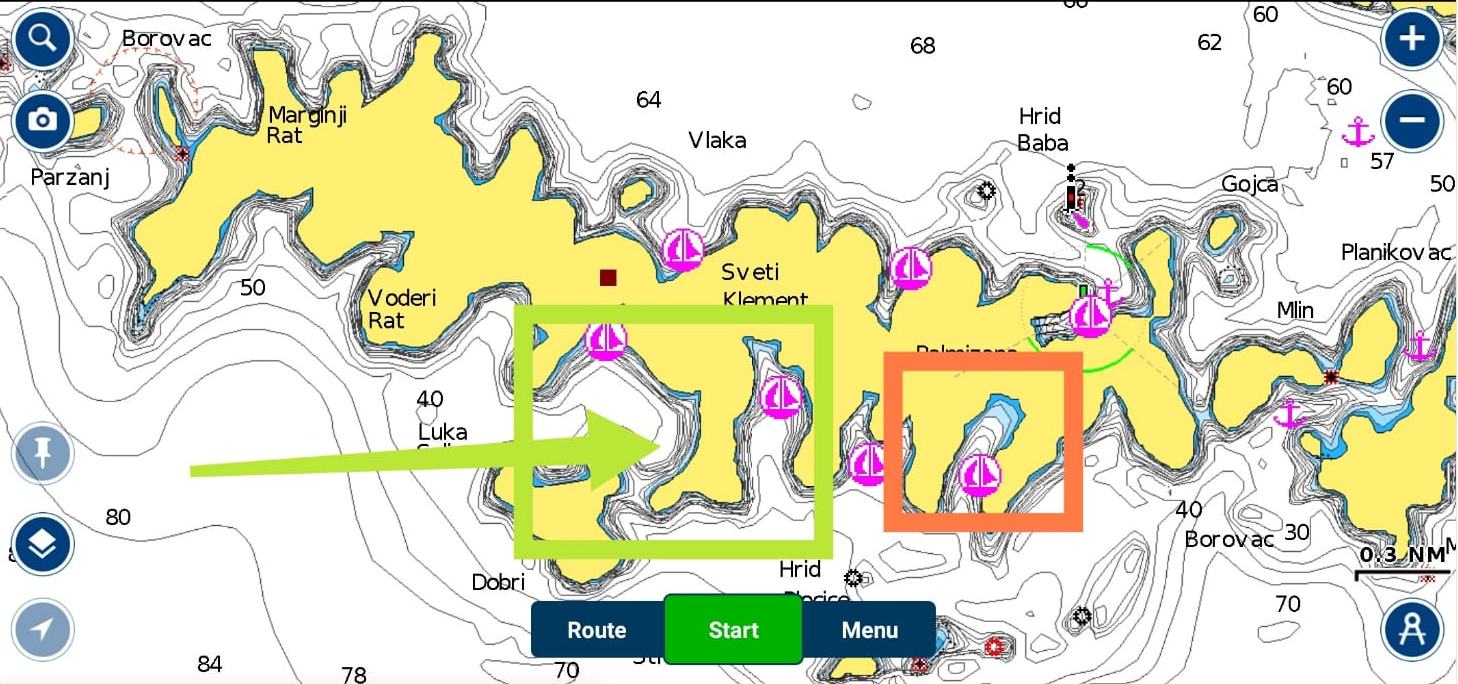 Pakleni islands annex
If you moor your boat at the buoy (red poligon) then you can kayak or swim to the shore, walk across the hill (10 minute walk) to ACI marina Palmizana and take taxi boat to Hvar town. It is 10 minute ride and this way you will avoid trying to moor in Hvar town port that is almost impossible.
*Bay with field of buoys is full of top restaurants.
**This area is perfect for kayaking.
The only shallow point that you have to avoid widely at the western part of Pakleni islands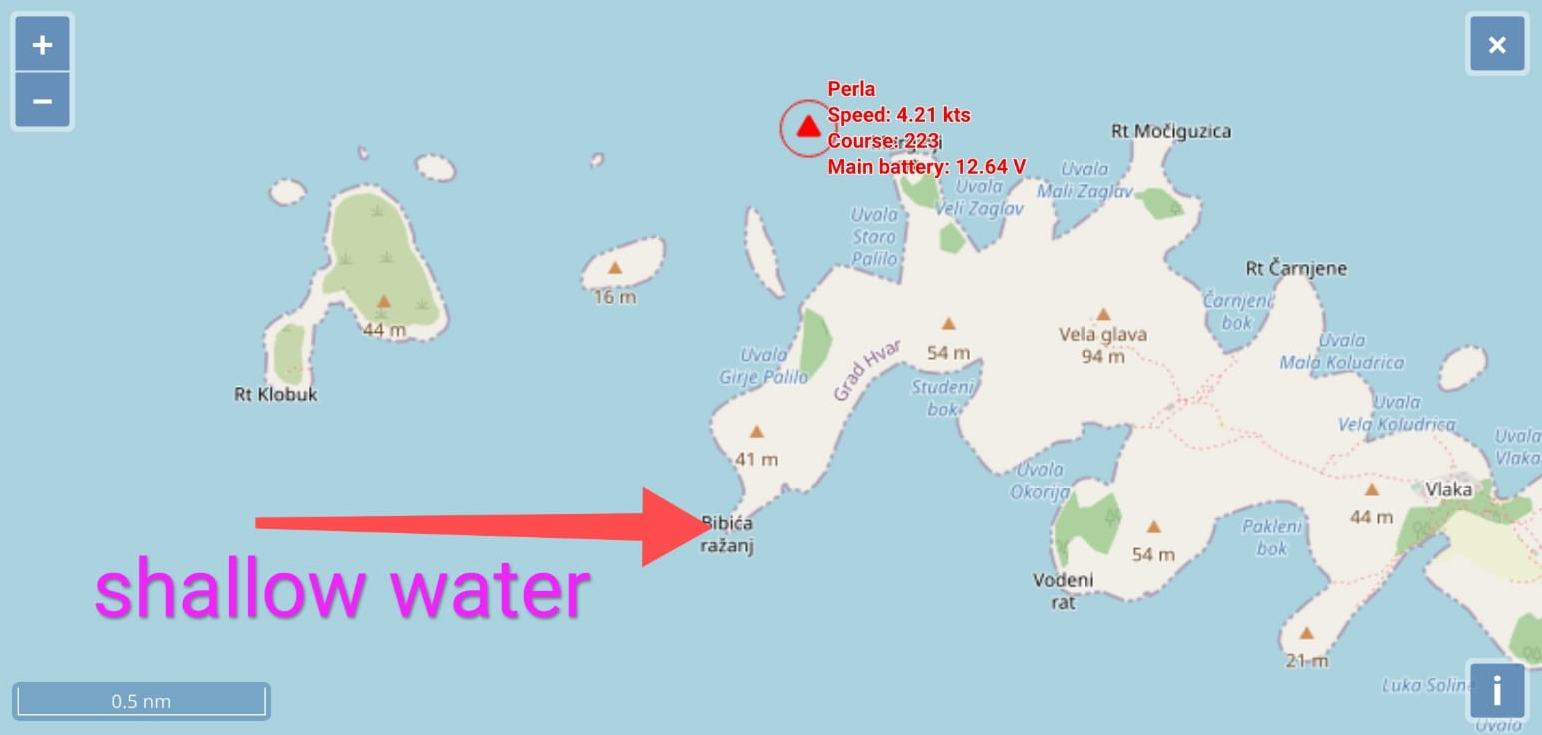 Locations of 3 bays on Brac and Vis islands with former army (submarine) tunnels

DO NOT ENTER tunnel by boat because you can break top of the mast ! ! !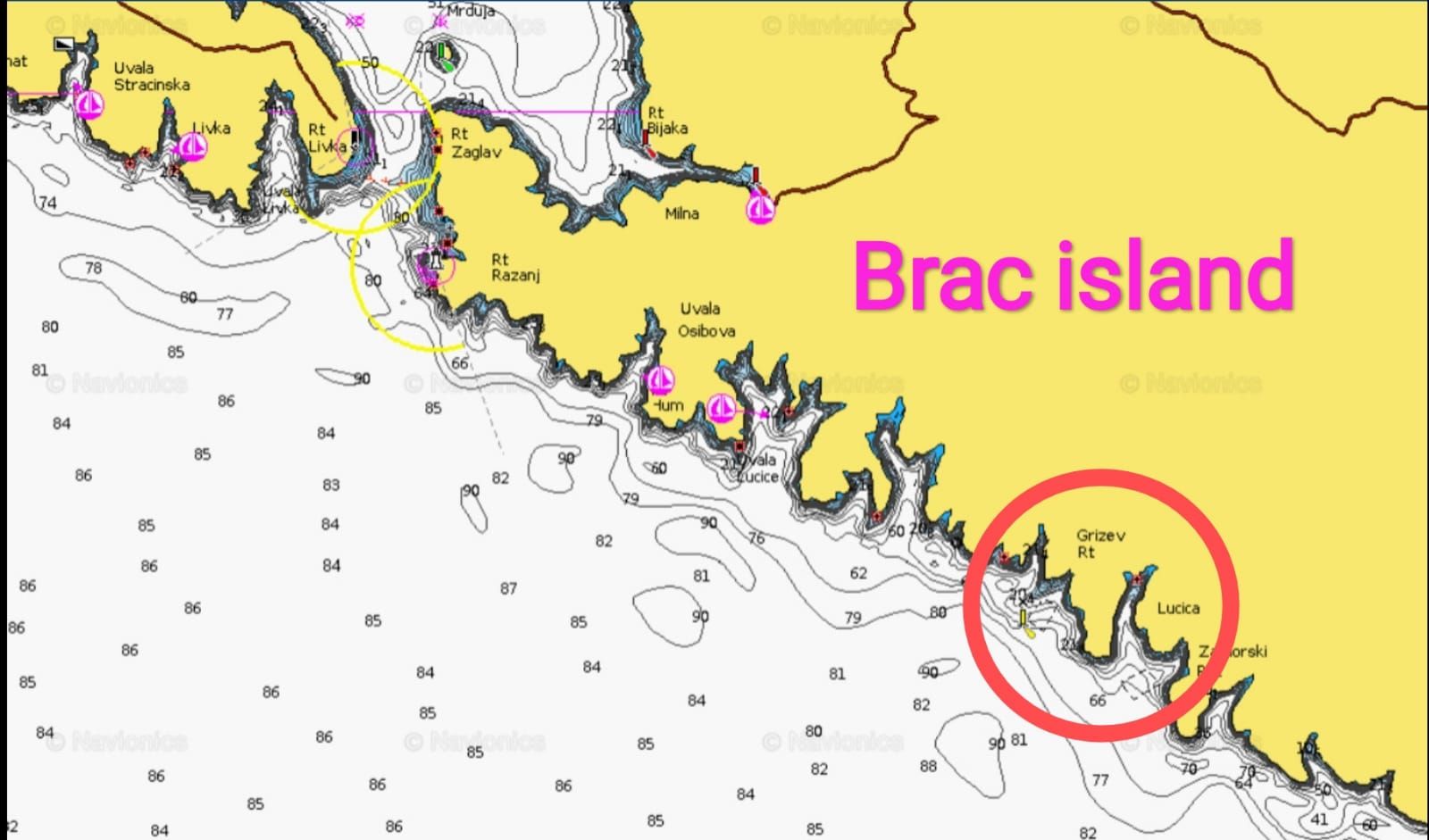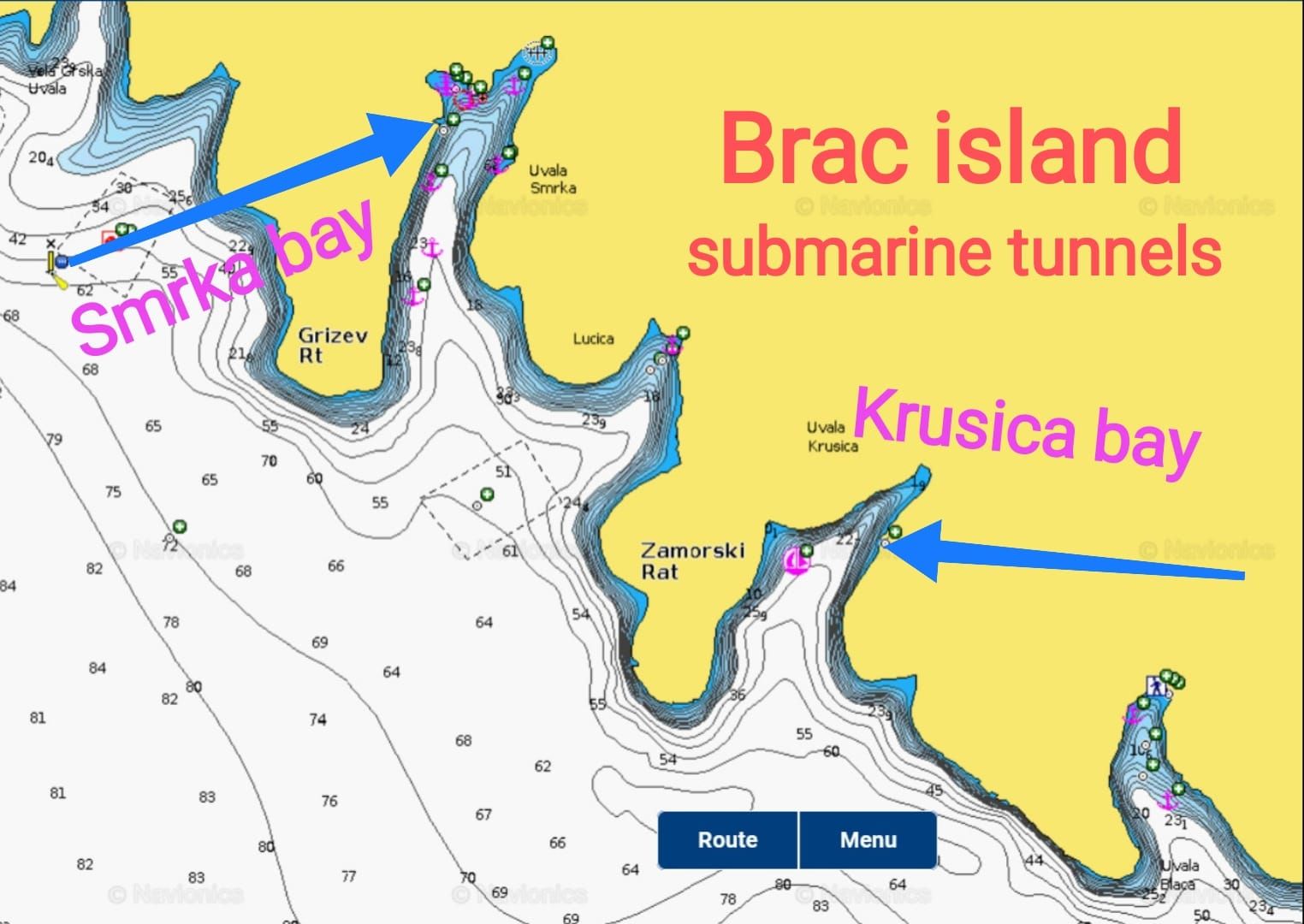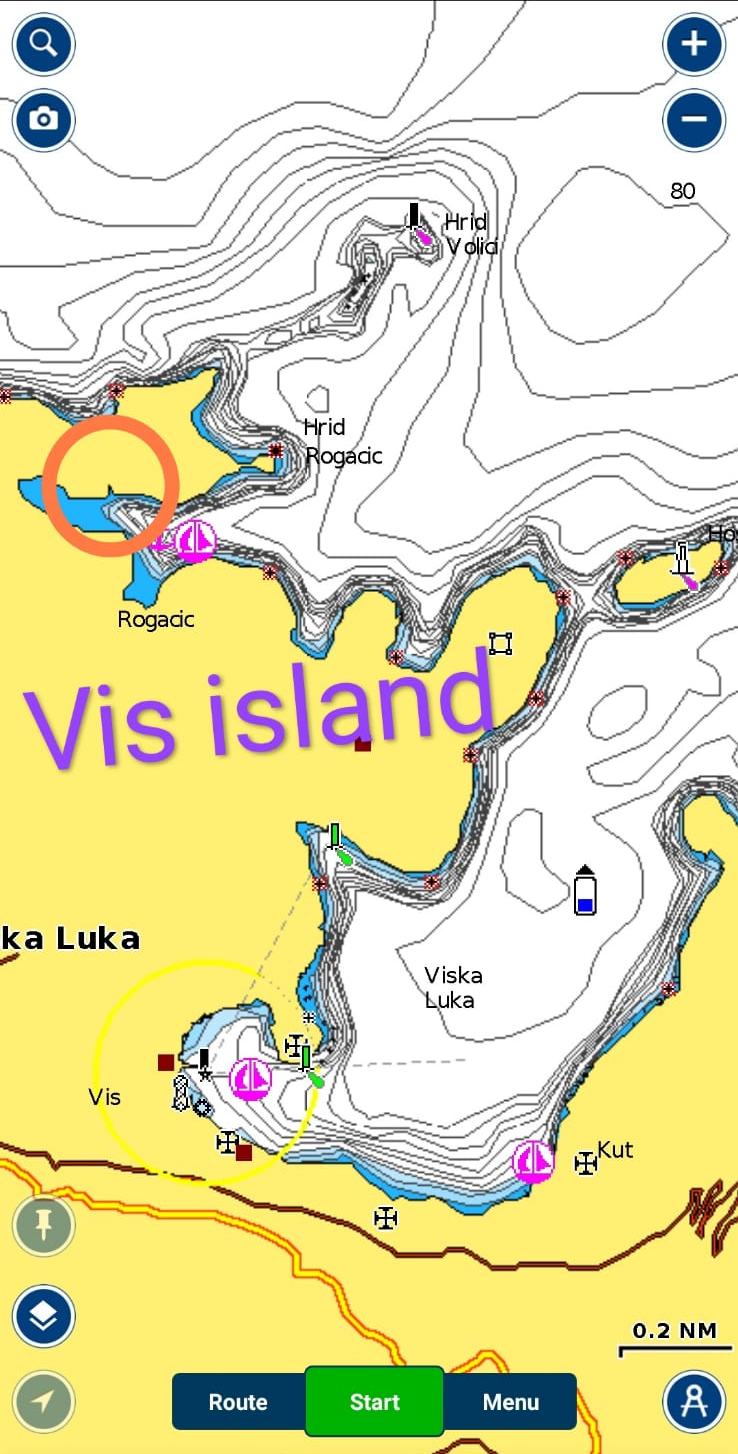 My FAVOURITE places: Stari Grad (Hvar island) and Pucisca (Brac island)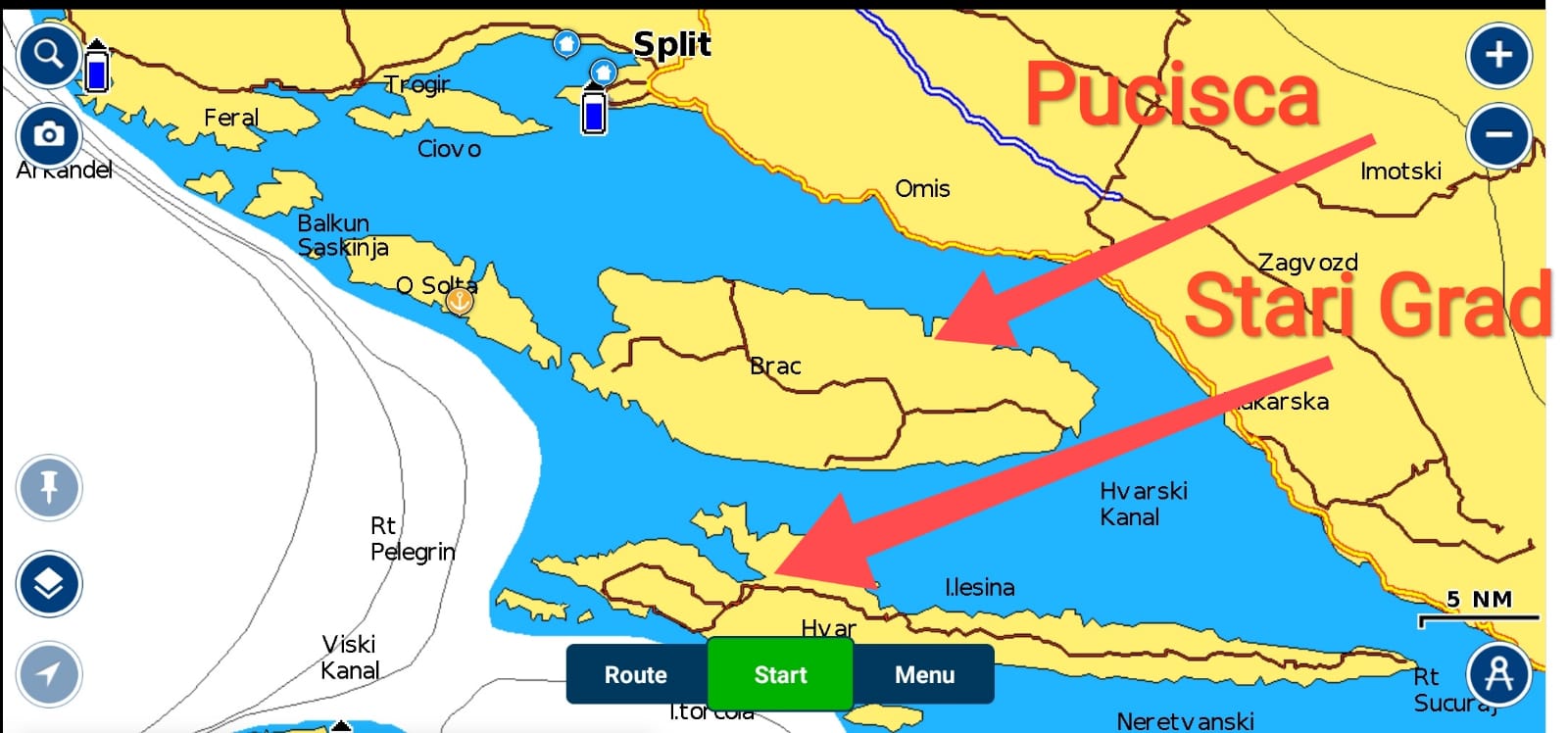 Stari Grad town on Hvar island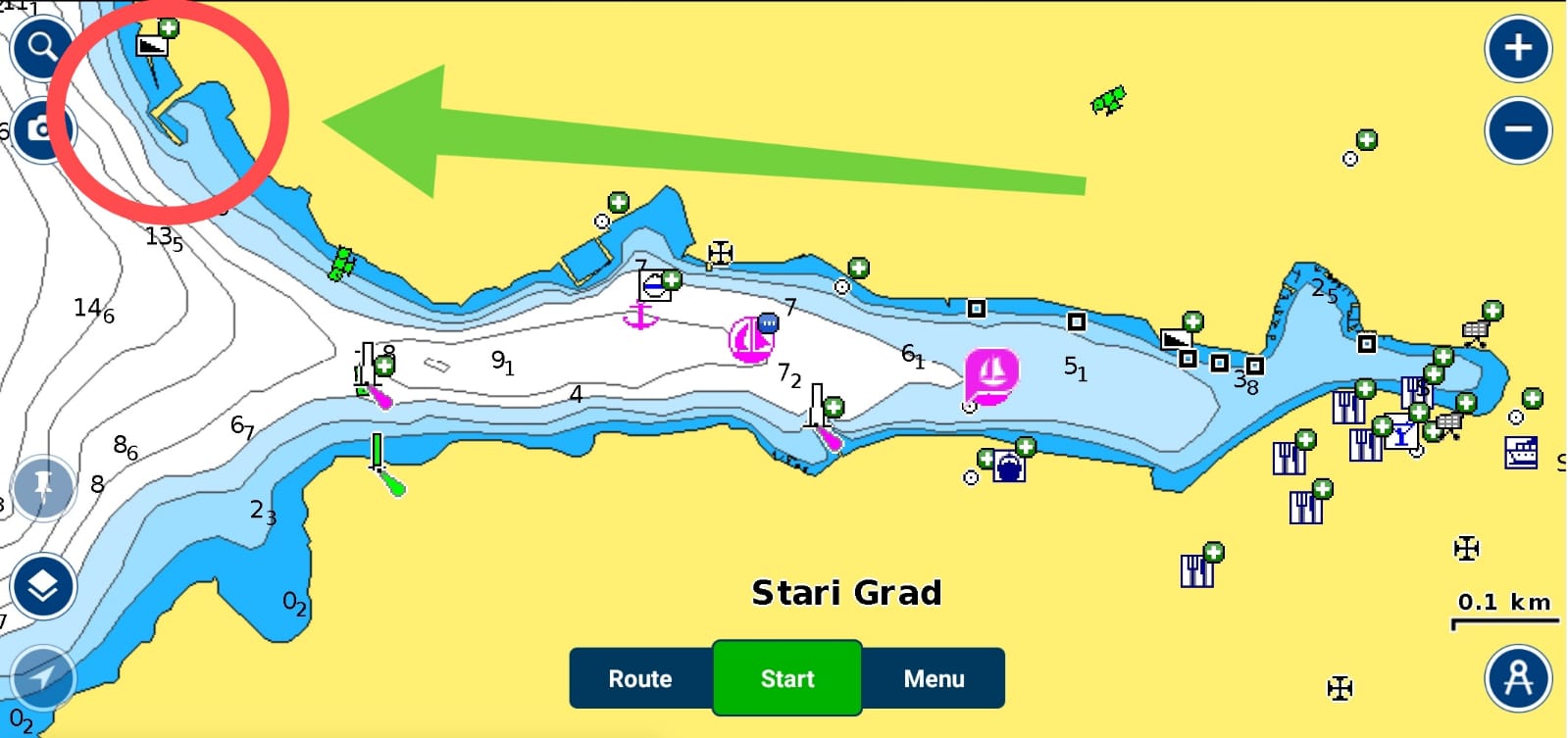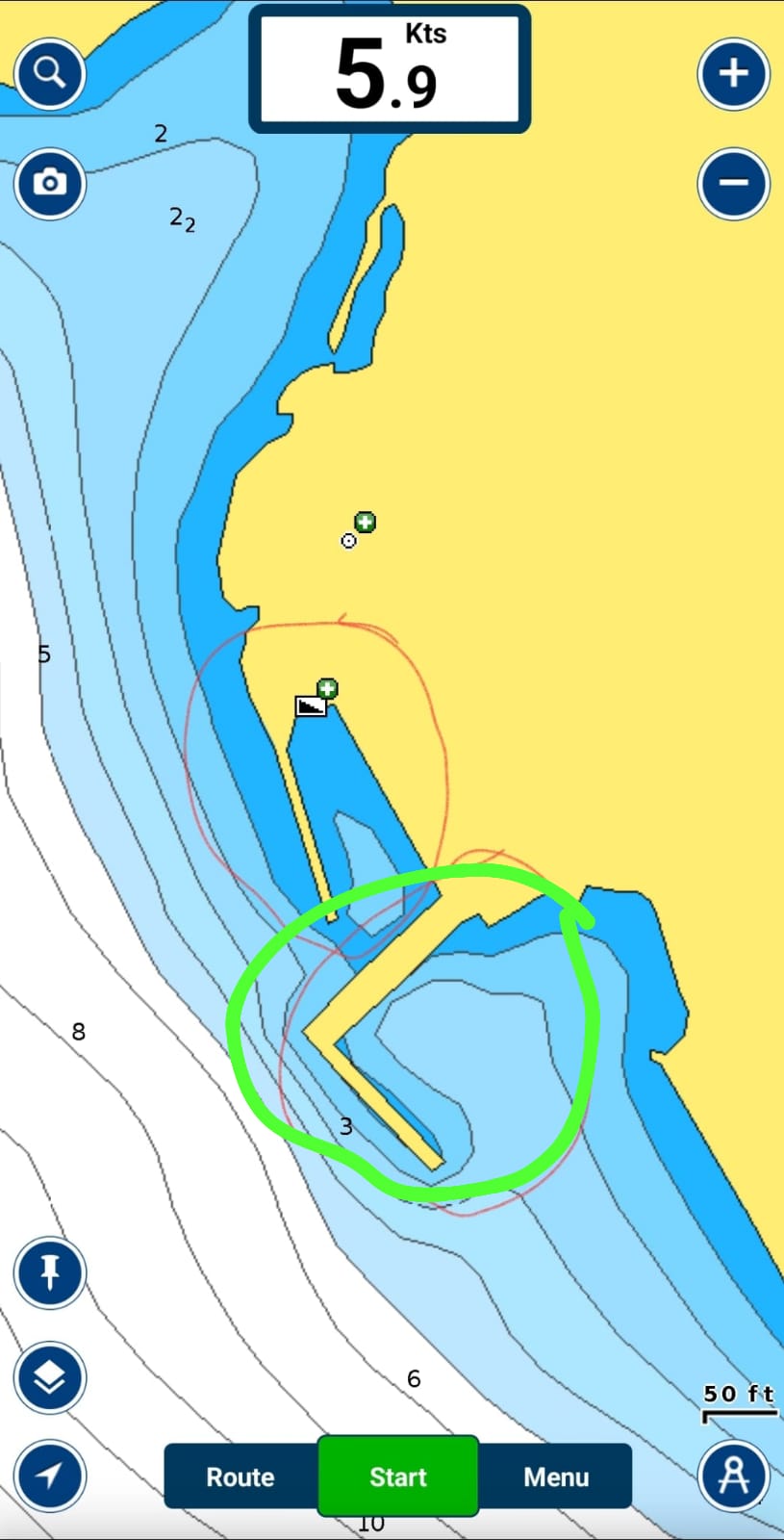 ALL kinds of coffee in the Nook restaurant in Stari Grad for 1€ only ! ! ! !

Pucisca town on Brac island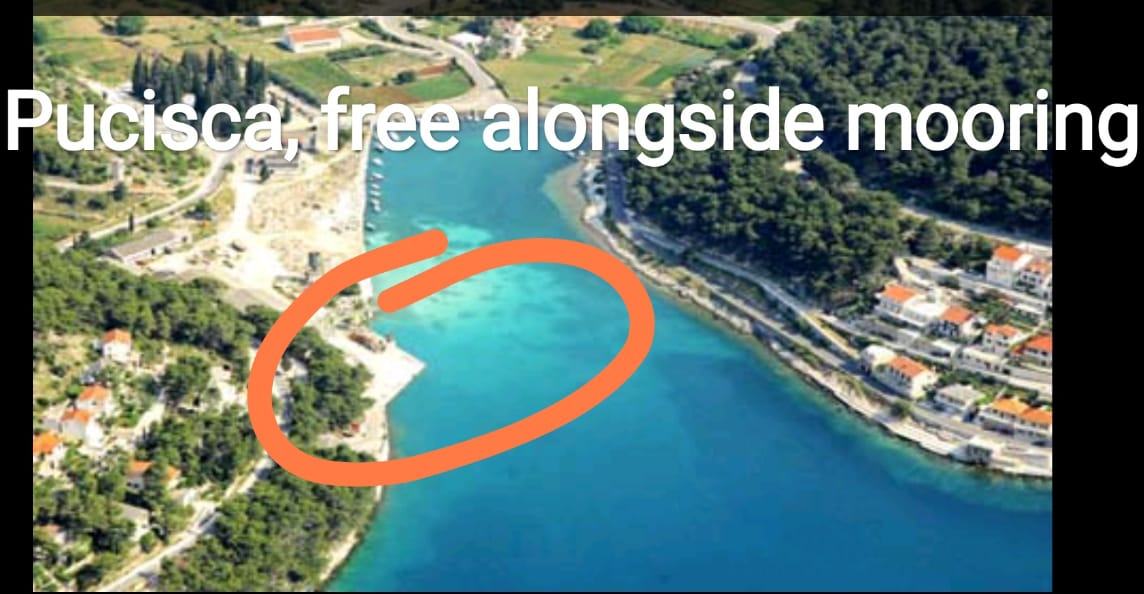 OTHER IMPORTANT INFORMATION

When mooring boat in Bol town (Brac island), keep boat away from the dock because possibility that big waves produced by passing boats could push your boat to hit the dock!
Base marina Spinut does not offer toilet facilities.
Regarding weather forecast, Split area with surrounding islands (Brac, Solta, Drvenik, Hvar, Vis, Korcula) is in Central Adriatic.
Draft of the ship is 1.8 meters.
The keel is locked in down position.
Depth alarm is set to 3 meters.
The greatest difference between high and low water (tides) is half a meter.
Fresh water in the boats reservoir is not for drinking.
There is NO water (refilling) hose on the boat.
Mobile phone and internet signal coverage is excellent in the whole sailing area.
Keys for boat and dock door are on the cabin wall next to the door.
Boat's documents are on the top shelf of the starboard cabinet.
There is no fridge on the boat because of lack of electricity. DO NOT connect any device bigger than smartphone or tablet to boat's USB ports!
There is a 12V-battery on the boat that is charged from the solar panel. Battery supplies with 12V electricity:
- cabin light (LED)
- navigation lights (LED)
- instruments
- cockpit shower
- 2 USB ports for charging mobile phones
There is set of dishes for cooking on the boat on a gas cooker.

SAFETY-CRITICAL INFORMATION

Check fuel level in the main reservoir each day. Main reservoir holds 23 litres of petrol and there is 10 more litres in additional can.
If one half of fuel is spent, refuel it from additional 10-litre fuel-can. When again is half reservoir spent - go to the nearest petrol station and refuel with plain petrol (euro/super 95 or 98).
Start engine only when it is in working position (upright and with propeller deep in the sea).
After each engine start check cooling water control stream if it is running properly.
Check oil pressure red lamp on the front side of engine when engine is running. MUST NOT light when engine is running. If red light is on - switch engine immediately (!) and call base manager!
Boat is always moored with bow first! If you moor boat aft first engine and rudders might be damaged!
Before each engine start - pump the fuel.
If fuel level is correct and engine doesn't start - you probably misused choke. To start the engine:
(1) close choke (push it into the engine),
(2) open full throttle
(3) and pull starting rope several times.
Engine warming: after engine starts wait for 5 minutes before you sail away!